A corded phone that is connected to copper landline system may not look flash.  It does not have a lot of bells and whistles.  You can't use it to take photographs, make videos or surf the internet.
But this humble phone could save your life in an emergency.
if you have a corded phone connected to the copper landline system, it will work even if your area loses power and the cellular phone system infrastructure has failed.  It can connect you to emergency services if you need help due to an accident or life threatening medical problem.
When times are good, you can also talk on a copper landline phone in comfort and safety without the unpleasant "burning ear" sensation or headaches that many people develop while talking on cellular phone.
You can also feel confident that you can enjoy spending time on the phone talking with friends and family without the potential increased risk of developing a brain tumour that is associated with the use of cordless or cellular phones.*
(Now that's something to crow about!)
* https://www.pathophysiologyjournal.com/article/S0928-4680%2814%2900064-9/pdf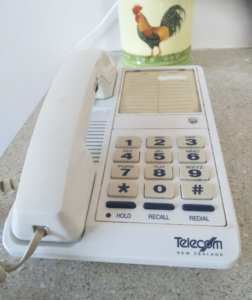 About Save Our Landlines NZ:
This website is being developed by New Zealanders who want to see the copper landline network in NZ to be retained and protected. If you value having a corded landline phone that will work even if you home (and the area in which you live) loses electricity, you are very welcome to join us.
To get updates on this issue, please follow our Facebook page at the link below:
https://www.facebook.com/Save-Our-Landlines-NZ-1626155717464225/
If you would like to help in any way with the campaign to save NZ's copper landline network, please email us through the contact form below.